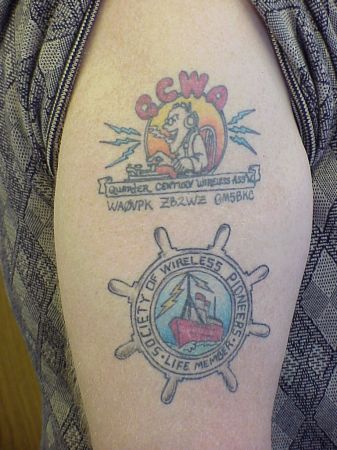 In almost every society, one of the signs of a true
bada
$$ is the tattoo. To permanently ink your body is a sign of true dedication. Or insanity. From the Maori warriors in New Zealand, to the
Yakuza
gangsters of Japan, to the Hell's Angels in the United States. All proudly identify their 'tribal' affiliation by tattooing their bodies.
Amateurs radio operators are not known for being such
bada
$$es. Maybe in another life they inked up while in the Navy, but ham radio tattoos? Sounds like a joke. But it's not. There are some ham radio
bada
$$es out there. Glenn,
AE
0Q, is just such a guy. This guy deserves the title of Big Gun just for the tats on his guns. Check those
babies out
!
AE
0Q can't be the only inked
bada
$$ out there in
radioland
. We're announcing a contest here at the
Fi
-Ni Report. Send us a photo of your radio related tats to biggundx@gmail.com. We'll pick the baddest tattoo out of the bunch and send them a
Lost Island

DX

Society tee-shirt
. No Big Gun should be without one. Our odds are on the
Arizona Outlaw Contest Club
. Seems of bunch of them hombres ride to their meetings on Harleys.